Li's child removal in January 2009 Vancouver
The synopsis of the Li's case below is extracted from the electronic version (in Chinese) of the 1 February 2009 Ming Pao Newspaper:

Mr. Gao La Li is a professional from Beijing, China. His family immigrated to Hamilton, Ontario in 2004. Unable to find suitable employment, the Li's family returned to China. On 28 October 2008, pregnant Mrs. Li (Coi Yun Ouyang) came to Vancouver, British Columbia. Her second child was born on 21 December 2008. Her husband and their 6-year old daughter came to Vancouver shortly after the birth and plan to return to China in February 2009.

Their new born baby was placed in a maternity care centre (月子中心) and was suspected of having Shaken Baby Syndrome by the staff of the Childrens' Hospital. The police and the MCFD were notified. Children of the Li's family and the owner of the maternity care centre were all removed and placed in foster homes. This is a typical shot-gun approach frequently used by the Ministry.

The Lis are cooperative with investigations from both the police and MCFD. They were disturbed by the suggestion from a Canadian born Chinese police officer, who can barely speak Chinese, that they prefer boy to girl and this forms the motive of child abuse.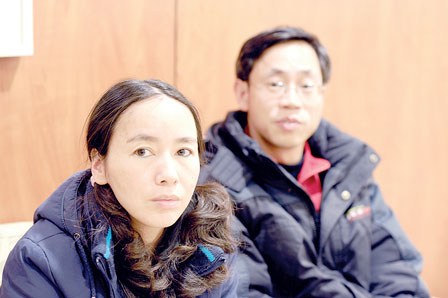 Mr. and Mrs. Li held hands tightly during the interview. Mrs. Li said her body has not recovered after a Caesarean section. Now she has to face the removal of her children and hospitalization of her new born. She almost collapsed a few times. She has no more tears to shed. But for her children, the couples will continue to fight. (photo credit: Ming Pao Newspaper)



Parents are allowed 3 1-hour supervised visits per week. "It is like visiting someone in prison." said the parents. They do not know where their children live and are not allowed phone access. Their older daughter complained to the parents that she was bullied in foster home. This was heard by the supervised visitation worker and the conversation with parents was immediately stopped. Visitation was later suspended. Parents proposed that the children be placed in friend's home but was declined by MCFD.

Mr. Li lost his patience and said: "Is this child protection? They (MCFD) took her for just 10 days and there is already problem. I raise my daughter for 6 years without an incident. Who is really protecting children?"

The Province (a local mainstream newspaper) and Fairchild TV (a local Chinese TV station) aired the Li's case on 3 February 2009. While the Li refused to be interviewed by Fairchild TV, they agreed to be interviewed by The Province in office of their lawyer, Lawrence Wong. Details of their story can be found on A3 of the 5 February 2009 Province.

Unaware of the potential risk of raising children in the "best place to live of Earth", this unsuspecting Chinese family inadvertently fall prey to the regime of "child protection" in the English-speaking world. The Li couple told the Province reporter that they want to avoid China's one-child policy by having their second child born in Canada, which would also guarantee the child Canadian citizenship. "We wanted our child to have a good future," said Mr. Li in the February 3, 2009 interview.

Like most immigrants, the Li came to Canada with a common objective of pursuing a better future for their children. Government's child removal authority in Canada instantaneously turns their dream paradise to a living hell. Largely unknown to most Canadians, this state-sponsored child removal business has completely betrayed the noble legislative intent of protecting children and helping families in need. "Child protection" is nothing more than a label of an industry predominantly dictated by service providers. Tax dollars allocated to child protection attract special interest groups whose self-serving motives have created many wrongly convicted child abuse cases.

Director v. M.P., 2005 BCPC 651 established common law principles that there is no defence for parents when:
there is no complaint from a third party;
child is not in immediate danger; or
the ministry does not need to prove that removal serves the best interests of the child.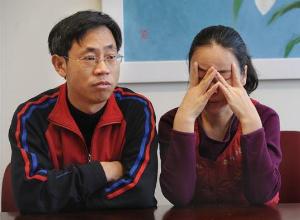 During the 3 February 2009 interview, the Li couple appeared exhausted and despaired in their lawyer Lawrence Wong's office. They are not alone. Thousands of parents in British Columbia go through the same trauma every year. The judiciary fails them. Politicians turn a blind eye. Many of their friends, employers and relatives start to think negatively about them. This could happen to any parents with children under 19 years of age by just one phone call. (photo credit: The Province)

In custody hearings, judges claim that they are obliged to rule in favor of the ministry when there is a factual discrepancy between social worker and parents. Their reasoning is to err of the side of caution and place children in a known "safe" place, where an astonishing number of children in care are killed, abused and critically injured. Litigants always have different versions of fact to argue in court (except litigations in higher courts where the arguments are the interpretations of law). Courts have the obligation to grant fair hearings and make decisions based on objectivity, credibility of evidence and rational reasonings. If courts take the position that whenever there is a discrepancy in fact, judges are obliged to rule in favor of MCFD. Why bother having a hearing?

In many aspects, this case is very similar with the Bayne's case. A young Chinese citizen is held hostage against her will and that of her parents in Canadian soil. Seek help from the Chinese Embassy and turn this into an international laugh stock. It does not take a lot of political wisdom to see that this is an excellent opportunity to garner support from overseas Chinese by taking initiative to assist Chinese citizens when they run into trouble abroad. Protecting its citizens should be a prime objective of a responsible government.

Canadian governments often criticize the Chinese government of running kangaroo courts that the accused is given no fair trial. Despite whether there is any merit in the aforesaid statement, this is a gross intervention of another sovereign power's internal affairs. This belief forms a reason of not returning the wanted fugitive Lai Changxing (赖昌星) to China to stand trial of bribery and smuggling charges. Unlike most refugee claimants, Mr. Lai had spent millions of dollars in legal fees during the lengthy process. Under the pretext of protecting human rights and natural justice, Mr. Lai was recently allowed to stay and work in Canada. Should Canadians first fix our own human right and natural justice problems at home before criticizing a foreign nation? If you care to read our Empirical Data & Statistics page, you will see whether parents are given a fair hearing in "child protection" courts.

State sponsored child removal amounts to a systematic attack directed against a civilian population that causes enforced disappearance of persons. This meets the definition of Crimes against humanity stipulated in Article 7 1.(i) of Crimes Against Humanity and War Crimes Act ( 2000, c. 24 ). Legalizing child removal by passing a statute called CFCSA under the pretext of child protection does not change the notorious nature of such activity one bit. Saddam Hussein can easily pass a bill authorizing the extermination of the Kurds using national security as an excuse when he was in power. Does legalization make a wrong thing right?

This news was subsequently aired by the Hong Kong Economic Journal on February 24, 2009 (archived below). The conclusion of the reporter is insightful.


An article titled "Maternity and The Gua Sha Treatment" from the 24 February 2009 Hong Kong Economic Journal. English Translation

The young child of a Chinese immigrant has some red bruise on his back.

His teacher reported to the social worker

. The child was removed. The parents were accused of "child abuse". This is the storyline of a movie called "The Treatment", which is based on a real event. The removal is due to the lack of understanding of a traditional Chinese medical treatment. The red bruise was not a sign of abuse but created after the treatment was administered to the child, who will not feel any pain during the process. In early 2009, a similar incident occurred in Vancouver (British Columbia, Canada).

A middle class Chinese woman came to Vancouver to deliver her baby and was being taken care of in a maternity centre. She received royal treatment, well fed and ....

Under the new Citizenship Act, children of Canadian landed immigrants not born in Canada will not automatically receive Canadian citizenship. Many immigrants immigrate to Canada for a better future of their children. For the same reason, they return to their home countries to earn a living for their children. Pregnant landed immigrants return to Canada to give birth to ensure their children will get a citizenship. A Chinese couple went back to China after landing in 2004. The wife returned to Vancouver during her second pregnancy in October 2008. Accompanied by her husband and daughter, they resided in a maternity centre in Richmond. In December (2008), she gave birth to a daughter. In January 2009, the couple found their infant sleeping for a long time after they went skiing. They took her to the hospital and was diagnosed that she was injured. She was hospitalized immediately. The older daughter and the children of the owner of the maternity centre were all removed by the Ministry of Children and Family Development. Parents were not allowed access of their children unless supervised. They were not allowed to leave Canada and were being investigated by the police of child abuse.

Medical staff and social workers formed an opinion of child abuse because the parents already have a daughter. They do not want a second daughter. They believe that someone has acted improperly. The parents said that they already know the sex of their unborn child in China. If the Ministry's theory is true, they do not need to spend so much money to return to Canada just to harm their baby. This is very believable. It is well known that many Canadian families can only adopt Chinese girls because they were abandoned due to the preference of male children.

The Ministry has a notorious reputation of removing children without good reasons. Social workers arbitrarily remove children from their families to create jobs for themselves. Without child removals, the Ministry no longer needs to exist. Overly empowered social workers remove children and create more problems by dumping them in foster homes. Society will never have peace if this Ministry is not dismantled.