Some Alleged Evidence
As locations of mass graves of Native Indian children from residential schools were revealed by eyewitness accounts, documents, survey data and physical evidence, the horror of the genocide in Canada's Native Indian residential schools became public. An unknown number of Native Indian children (one source cites roughly 150,000 during the course of mandatory attendance of residential schools) were forcibly removed from their families. Most removed Native children were traumatized. Some, perhaps many, were killed and abused in captivity at Indian residential schools in Canada.
According to a web site posted by Brenda Norrell (an American reporter based in Tucson, Arizona, U.S.A.) on 18 April 2008, there are 13 locations of mass graves at former Native Indian residential schools and hospitals in British Columbia. There are many more in the rest of Canada. Mass graves nearest to the Lower Mainland are in Squamish and Fraser River Heritage Park (formerly St. Mary Mission and Residential School) in Mission, B.C.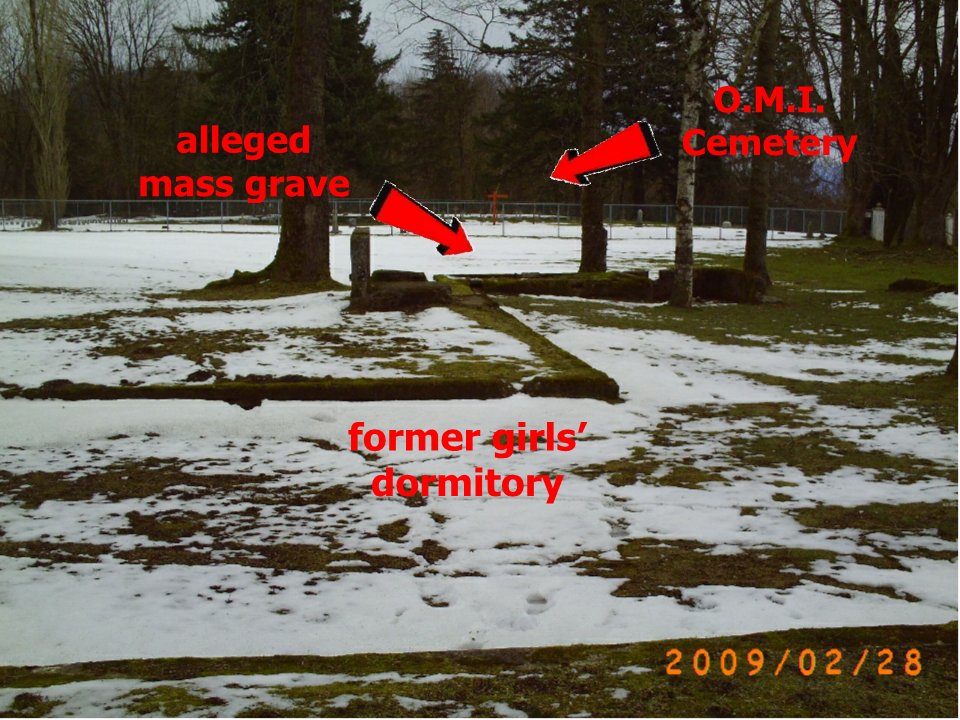 The concrete foundation of the demolished dormitory is clearly visible in St. Mary Catholic Residential School. Brenda Norrell's web site gives very specific locations of the 2 grave sites in this former school.
The mass grave in St. Mary Mission and Residential School was in the Fraser River Heritage Park located off 5th Avenue east of Stave Lake Street in Mission, British Columbia. In 1965, all of the buildings of the school were demolished due to deterioration. Today, the only physical remaining traces are some cement foundations scattered throughout Fraser River Heritage Park. According to the "Hidden From History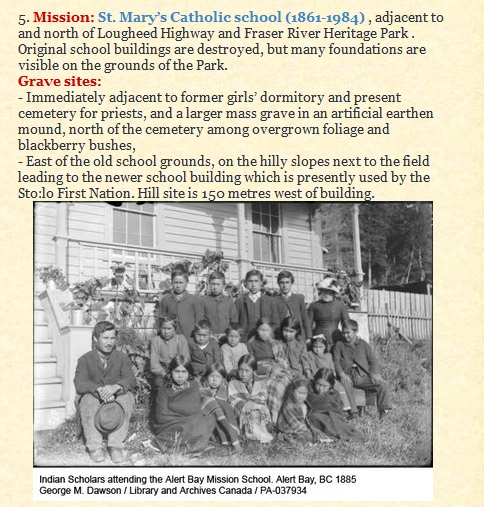 " dated 10 April 2008, there are two grave sites in this area:
immediately adjacent to former girl dormitory and present cemetery for priests, and a larger mass grave in an artificial earthen mound, north of the cemetery among overgrown foliage and blackberry bushes, and


east of the old school grounds, on the hilly slopes next to the field leading to the newer school building which is presently used by the First Nation. Hill site is 150 metres west of building.
Since these allegations are not supported by archaeological evidence, they must be treated as personal beliefs at this time. Despite the lack of scientific support, it is certain that helpless First Nation parents who lost the custody of their children had suffered severely. Many Aboriginal families were destroyed and their cultural heritage lost. Few manage to retain their languages and family names. Ironically, most Native children were worse off in residential schools where parental love and care are both absent. Some suffered emotional, physical and sexual abuse (confirmed by Prime Minister Stephen Harper's 2008 apology below) from their caregivers in a system where there was little or no accountability.